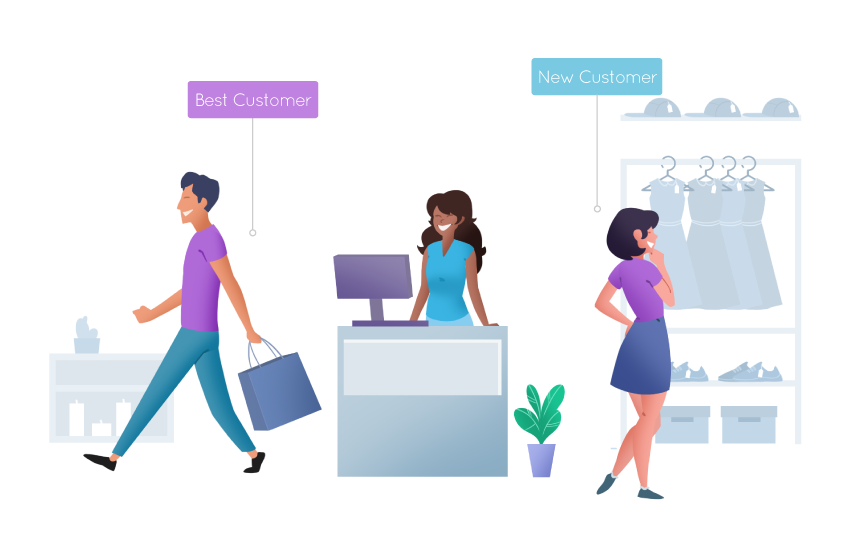 Take Personalization to the Next Level with Customer Segmentation by Marsello
Personalization is, without a doubt, one of the best ways to drive sales and loyalty. A survey by Segment has shown that 49% of respondents have a purchased a product they weren't planning to buy because of tailored suggestions, and 44% said they would become repeat buyers after experiencing tailored shopping experiences.
While retailers know that they should implement personalization, many still fall short when it comes to customizing the experiences of their customers. Research from Infosys found that 31% of consumers are craving for more personalized experiences, and Segment's research found that only 22% of shoppers are happy with the level of personalization that they receive from retailers.
Of course, implementing personalization is easier said than done. If you're running a bustling retail business, you're likely crazy busy with operations, management, and sales, so analyzing customer data can fall to the wayside.
Enter Marsello's Customer Segmentation – a new feature that automatically groups shoppers based on their shopping behavior. This feature gives you a quick overview of who your best customers are, which shoppers are more likely to make repeat purchases, which ones are slipping away, and more.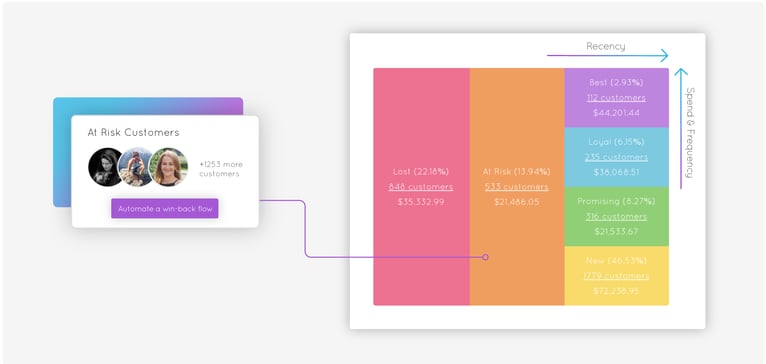 Then, even better, Marsello recommends marketing strategies to help you engage (or re-engage) specific segments.
Customer Segment Breakdown
Your customer database is grouped into six main segments. Note: These segments are mutually exclusive, meaning that each customer can only be in one segment at one time.
Best – Your 'Best' customers are those who have ordered recently, order the most often and spend the most!
These customers are your most valuable segment and with a little extra attention, you can turn them into lifelong champions of your brand. Best customers tend to have the highest ROI, so this is the perfect segment with which to apply the 80/20 rule (that 80% of your revenue comes from 20% of your customer). This means that these customers usually cost the least to keep in comparison to how much they spend.
Loyal – These are customers who've ordered recently, order frequently and have spent higher than average.
These customers are a valuable segment, and with effective targeted marketing, you can turn your 'loyal' customers into your 'best' customers with win-back campaigns, sales, and incentives.
Promising – Customers who've ordered recently, have ordered more than once, and have spent an average amount in your store.
Pay attention to this segment for its high-potential customer list. These customers can easily migrate to 'loyal' or 'best' customers so marketing to them with this in mind is key to progressing them through to more desirable segments, VIP programs could help to achieve this by incentivizing frequent purchases.
New – 'New' customers have made their first order recently; having access to this group is a huge opportunity to market to an already interested audience. There are likely to shop again if they have a good experience and are targeted with the right marketing, they can also provide you with potential look-a-like marketing groups (more on this later).
At Risk – Those in the 'At Risk' segment are your customers who haven't purchased recently; they are at risk of slipping away and forgetting about you. It's not all doom and gloom though, this is where campaigns just as win-back emails come in and can be the difference between a lost customer, and promising, loyal or best customers.
Lost – These are customers who haven't purchased in a very long time. Just because this segment hasn't been active in a while, doesn't mean you should forget them. Winning back lost customers is a sign that you're doing great marketing, and that your customers love your products. It's also as much as six times cheaper to win a customer back than it is to acquire a new customer – this instantly translates to better ROI with established customers. Keep an eye on your segment suggestions for marketing strategies specifically designed to help you win these customers back.
This feature also has two extra segments. It's worth noting that these segments are not mutually exclusive:
Window Shoppers – Any customer who has created a store account but have never made a purchase. One easy way to target these customers is through creating an inviting loyalty program that rewards them for their first purchase. Rewarding purchases with points and freebies could be the extra push they need to complete that first purchase. Learn more about Marsello's loyalty feature here.
Abandoned Shoppers (Available for Shopify only) – These customers have recently abandoned their online shopping order with you. These customers could have abandoned that cart for an endless number of reasons, so it never hurts to remind them that they were loving your products enough to add them to their cart. An abandoned cart email with product recommendations pulled through into the automated email is a fantastic way to get these customers shopping again.
How Marsello's Customer Segmentation Works
Marsello bases it's segmentation on RFM analysis to determine which customers belong to each segment. RFM stands for:

Recency – When the customer last made a purchase.

Frequency – How often the customer buys from you.

Monetary – How much money the customer has spent.

[...] it can be a mammoth task to organize customers into segments manually, and to know that you have to do this regularly is daunting. Knowing how often you should be updating your segments isn't even the start of it. The good news is that Marsello's customer segmentation is updated every 24 hours, and we're aiming to up the ante and make these updates even more regular. Even if you are using RFM, manually updating every day just isn't feasible, so we've got you covered, ensuring your targeted marketing is accurate.

– Customer Segmentation Series Part One: Segmentation and RFM

Marsello factors in the three components of RFM when segmenting your customers, and then goes a step further by suggesting targeted marketing strategies. For instance, if someone consistently purchases big-ticket items at your store, then we may classify them as one of your 'Best' customers. On the other hand, if that someone hasn't purchased in a while, they may move to the 'At Risk' segment. Read more about how this works in Part One of our Customer Segmentation blog series.
Getting The Most Out of Customer Segmentation
Now that you're familiar with the different segments and how we determine your customer groups, let's talk about how you can use Customer Segmentation in your business.
Here's a quick walkthrough of the feature:
Home – Customer Segmentation is one of the first things you see when you log in. The feature is in a grid-like format that gives you an at-a-glance view of your different segments. You'll immediately see the total number of customers belonging to each group, the percentage of each segment (relative to your overall customer base), and each group's total spend.
Take action – Knowledge is only as good as how you use it. It's great to have insights, but moving the needle in your business requires action. Fortunately, Marsello makes this part easier by making tailored suggestions on how you can best market to different segments.
Click on the segment on which you want to take action to see targeted marketing strategies.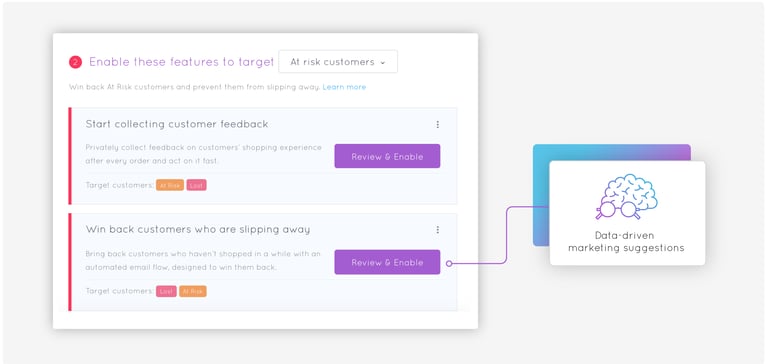 These marketing strategies are tailored to your store. For example, if you're looking to drive even more sales from your customers in the 'New' segment, then Marsello may suggest enabling first-time email flows to encourage them to make a second purchase. On the other hand, if you want to re-engage shoppers in the 'At Risk' segment, then Marsello may suggest creating a Win-back Email Flow or it may also recommend that you start collecting customer feedback to identify areas to improve.
Once you've acted on a recommendation, it will appear in the 'Completed suggestions' section of the page.
Drill down on each segment – If you'd like to view the specific customers in each group, click the customer total link on the segment you want to learn more about.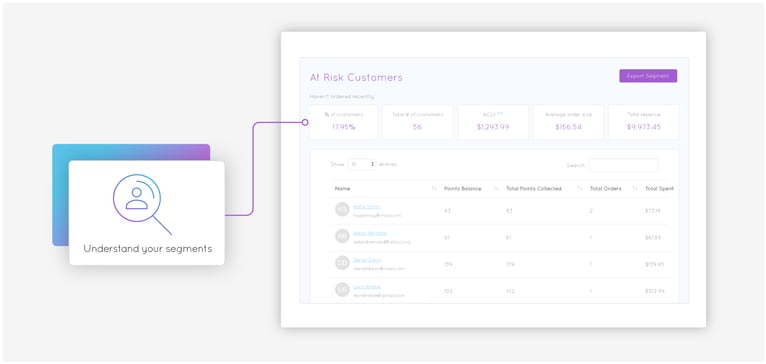 Within the first line of stats, you'll find:
% of customers – this is the percentage of your total customer database that is represented within this segment. The image above represents the 'At Risk' segment. Ideally, you would like to see customers moving quickly from this segment to more desirable groups like 'loyal' customers, although if you notice this percentage decreasing, and your 'lost' customer segment's percentage increase, it's time to change tack quickly and find a solution for saving these 'at risk' and 'lost' customers.
Total # of customers – this is the total number of your customers within the segment. It's a quantifiable measurement and very useful for setting KPIs, measuring marketing success and planning for marketing strategies.
ACLV – you'd expect the Average Customer Lifetime Value of your 'Best' customers segment to be much higher than your 'Lost' customers. It's important to use your marketing budget towards the customers who are most likely to purchase again, giving you the highest possibility of Return on Investment (ROI). Shopify has a powerful blog on CLV and how it relates directly to ROI; check it out!
Average order size – this is the average spend per order. This will show trends, for example, your 'potential' customers may make orders frequently and spend smaller amounts per order; in comparison, your best customers may make orders frequently and spend large amounts per order.
Total Revenue – this is how much this segment has been worth to your store so far.
You can also go to a deeper granular level of information relating to each customer, such as their:
Name – the name they have registered as with your store.
Points balance – the total number of loyalty points they have accumulated toward your loyalty program.
Total amount spent – how much they've spent at your store.
Last seen – when they last shopped with you.
With the data that you gain from this page, you can process a number of different actions that will improve or influence your marketing strategies for this segment, and for potential customers who may also fit the same targeted marketing bill (more on this in a moment).
Possible actions from this page:
The first action step is to enable the automated targeted marketing suggestions which relate to that segment. These are set up for retail marketing success with smart content and design pre-populated so that it's simple to add your crisp brand colors and logo, simply review and enable.
Monitor the key stats within each segment – this will be a good indicator of how your marketing is working. E.g you want to see an increase in your ACLV, meaning that your customers are more valuable to your store.
Exporting your segmented customer lists to a CSV file is simple; this can be very useful if you're running targeted Facebook ads (we'll go into this shortly).
Or return to the Home page to see targeted suggestions for your segments.
Improve Your Paid Ads with Customer Segmentation
While Marsello has several built-in features that can drive traffic, sales, and engagement, the customer segmentation feature can also help you in your other marketing efforts.
If you're running Facebook ads, you can create new audiences by exporting customers segments into CSV files.
Let's say you're looking to get in front of shoppers who haven't visited your site in a while. One thing you could do is export a CSV of customers in the 'At Risk' segment and create tailored Facebook ads for them showing them your latest or most popular products, or offering them a discount when they spend over X amount.
Or, if you want to reach shoppers who are similar to the customers in your 'Best' segment, you could use the CSV file from your 'Best' customer list to create a Lookalike Audience on Facebook or MailChimp. Then tailor the ads with content that your highest-spending and most loyal customers love, i.e. the product you sell out of most (note: an exclusive 'back in stock, act fast!' is the kind of call-to-action that captures attention among the hustle and bustle of social media. Don't forget a grabbing CTA). Creating audiences like this will help you get in front of people who match the profiles of your existing customers, but when you exclude the customers who already engage with you regularly, you're not paying-per-click for their already established loyalty.
Please note, that exporting CSVs to Facebook works best if you have more than 1,000 customers in a segment. Lists with fewer than a thousand people could lead to Facebook's algorithm thinking that your audience is too small, and this could affect the visibility of your ads for your intended audiences.
Getting started with Marsello's Customer Segmentation feature is easy
When it comes to Customer Segmentation, it's important to establish your goals. What you are looking for. What are your desired outcomes from the targeted marketing that you create for each segment? For example:
With the 'Best' and 'Loyal'' customer segments, you'll want to see these segments grow over time. A steady increase of X% over X amount of time (usually quarterly) is a good starting KPI.
With your 'New' customers (this can be a tricky one) you want to see this increase as you convert more traffic, & then once you've seen this increase, you want the 'New' segment to decrease with customers making a second purchase and moving towards 'Promising'. Setting quarterly KPIs that are broken into a series of achievements could be helpful here. i.e. KPI 1: Increase 'New' customer segment by X% by X date, then KPI 2: see X% of the 'New' segment move to 'Promising' by X date.
You should aim to see your 'At Risk' & 'Lost' customer segments decrease, so your core goal is to recover these customers and move them to more reliable segments. A simple KPI to start with could be 'Move X amount of 'At Risk' and X amount of 'Lost' customers to any of the top three desirable segments by X date.
In today's challenging retail landscape, the ability to effectively segment customers is one of the biggest competitive advantages you can have. Marsello puts that advantage right at your fingertips through Customer Segmentation.
We've also made it extremely easy to implement. Simply connect Marsello to your Shopify, BigCommerce, or Vend account and your segmentation will automatically begin as your data syncs.
Happy segmenting!
*Historical sync is not currently available for BigCommerce retailers.