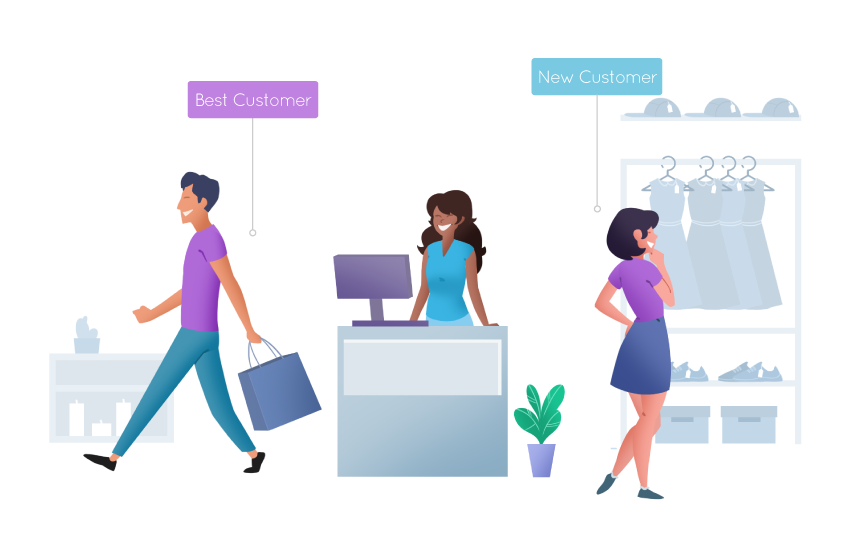 Retail Customer Segmentation: Must-Know Techniques and Tools
Customer segmentation is already in widespread use by many businesses. But this doesn't always mean that it's being done effectively.
With 80% of customers now expecting a personalized brand experience, this is a clear sign that brands need to double down on customer segmentation to increase customer loyalty and profitability.
As competition in eCommerce increases, success will come down to an omnichannel merchants' ability to target the right market segments with the right messaging at exactly the right time.
In this post, we're going to cover:
What customer segmentation is
Why customer segmentation matters
Key techniques for customer segmentation
Top customer segmentation tools
How to perform customer segmentation



What is customer segmentation?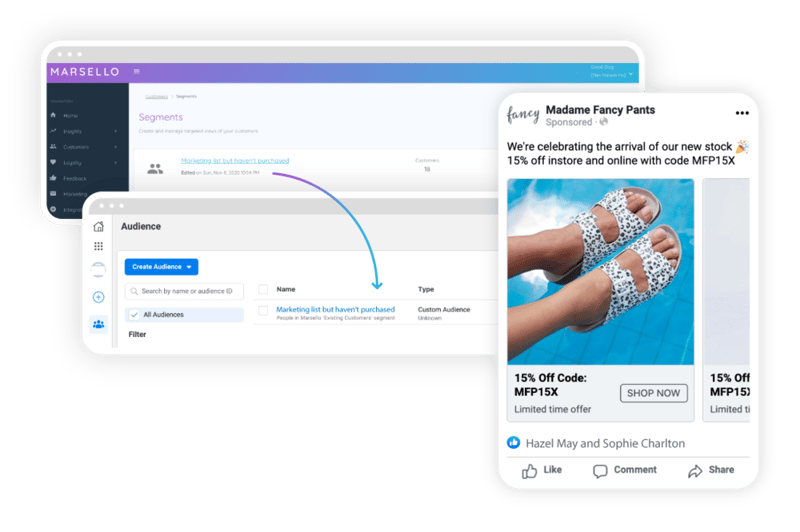 Customer segmentation is a strategy where a business divides its customer base into sub-groups according to recurring trends or characteristics.
At its heart, customer segmentation recognizes that consumers have different motivations for buying your product or service. In fact, supporting your brand may be the only thing that some customers have in common.
With customer segmentation, marketers can tailor their brand messaging and marketing campaigns to each unique customer segment. This allows for more targeted communications that address the expectations and pain points of each group.


Reasons to implement customer segmentation
Why does customer segmentation matter? Here are a handful of reasons to implement the strategy.


Personalize your marketing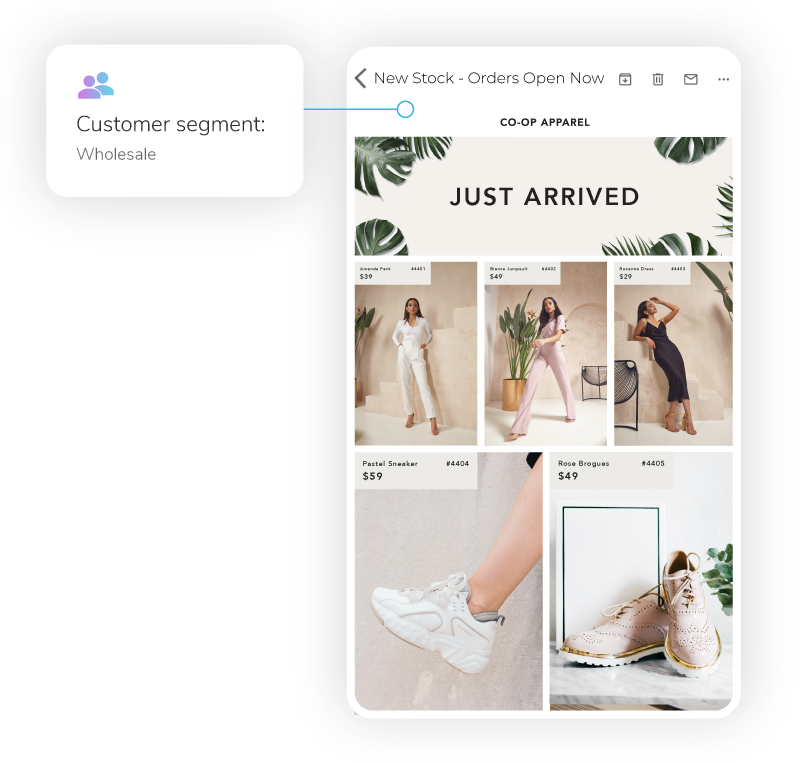 When merchants see their customers as one collective group, it's very difficult to capture nuances in the customer journey or gain an insight into what brings different customers to your brand. This in turn means lost opportunities to maximize the lifetime value of your customers.
By performing market research and segmenting your customers, you can gain an in-depth understanding of how different groups are likely to respond to marketing messages, pricing, and product development initiatives. The result is more effective marketing efforts and better customer retention by creating personalized campaigns that actually appeal to your customers on a personal level because the messages feel impactful and curated.
Making better use of your marketing budget
As customer acquisition costs continue to rise, businesses are being forced to increase their marketing spend, sometimes with mixed results.
We've all heard of cases where businesses have spent hundreds on social media ads or email automation, but have no evidence that it actually increased conversions. According to B2B marketing, just 6% of marketing leaders say they can calculate their ROI all of the time.
This is what happens when brands don't have enough customer data to determine what's the best use of their budget.
By using retail customer segmentation to map customer behavior, brands can learn which specific products will appeal to different segments, and which marketing strategies are the most likely to resonate.


And as an omnichannel merchant, it's even more essential that you understand every aspect of your business (from customer profiles, to budget and forecasting) because you're trying to create an effortless, seamless customer experience no matter where they encounter your business. If that experience feels mass-produced or under-represents your brand, you're not doing yourself any favours.
Create further upselling / cross-selling opportunities
For omnichannel businesses, the key to success lies in whether they can cross-sell and upsell their customers effectively. Otherwise, average order values (AOVs) are likely to stagnate.
But making appropriate product recommendations can be a huge challenge, especially if they view their customers as a homogenous group.
Taking a segmentation approach to your cross-selling/upselling efforts allows you to develop much more personalized recommendations for your customers. According to a survey by Segment, 40% of respondents said that they purchased something more expensive than they originally intended due to a personalized shopping experience.


What is a customer segment?
A customer segment can be developed from any characteristics that are shown to influence shopping behavior at your business. This includes demographic information such as age and gender, or even which device customers are using to browse your website. This means that segmenting tactics can differ widely between businesses, depending on their target market and product categories.


4 key techniques for customer segmentation
There are a number of different ways to segment your customers. They include:


Behavioral segmentation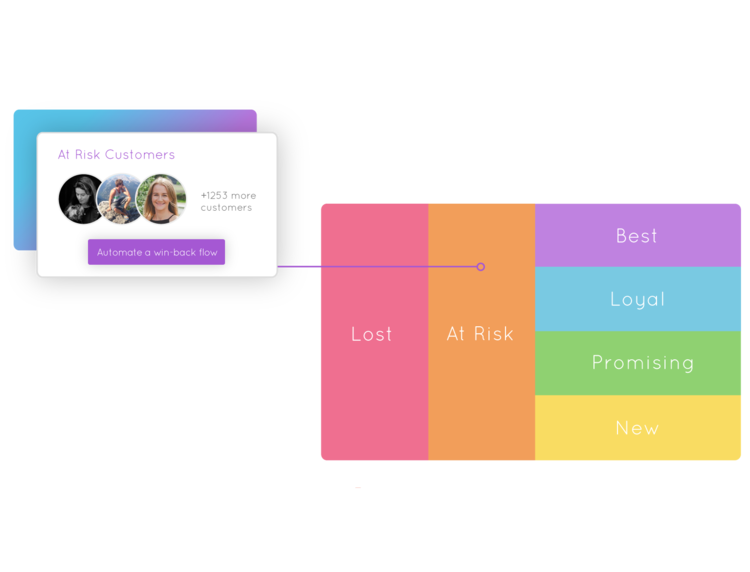 Behavioral segmentation uses customers' shopping behavior and purchasing history to determine what kinds of products or marketing approaches will entice them to purchase. Behavioral segmentation considers the following aspects of a customer's buying journey:
The customer lifecycle e.g. new customers, loyal customers, and customers 'reactivated' from customer churn.
Preferred device
Purpose i.e. occasion-based purchasing
Personality i.e. impulse shopper or long-time browser
Cart abandonment rates
By using behavioral segmentation, brands can easily identify their most valuable customers and focus promotional efforts on those most likely to purchase again. This is commonly referred to as RFM, which stands for:
Recency – When the customer last purchased from you.

Frequency – How often they buy.

Monetary – The amount they've spent.
Put simply, RFM looks at the overlap between when a customer last shopped with you, how often, and how much they spent. This allows merchants to target their best customers with greater accuracy.
A customer who spends a lot at your store, shops with you more often, and has purchased from you recently would typically have a higher value than a brand new shopper who hasn't made a lot of purchases yet.
As such, these segments should be treated differently. This is doable with an RFM analysis. Solutions like Marsello automate this process by analyzing your customers based on their recency, frequency, and monetary spending. From there, Marsello will place customers into different buckets:
Your best customers

Your most loyal customers

Promising shoppers

New shoppers

At-risk customers

Lost shoppers
When your customers are segmented in this way, it's much easier to send targeted and personalized communications – ultimately increasing conversion rates.


Demographic segmentation
Demographic segmentation is when a business uses demographic indicators to create different customer groups. This includes information such as:
Age
Gender
Religion
Marital status
Income
Education
Depending on the nature of your business, some demographic information will be more relevant than others. If you're a high-end fashion retailer, your target customer is far more likely to be dictated by income level rather than religion.
Demographic segmentation is one of the most popular customer segmentation strategies, as it's one of the easiest to implement and monitor over time.
However, there are nuances within every demographic that businesses need to identify. Customers who are only buying accessories and lower-priced apparel are less likely to be interested in purchasing a couture garment, for example.
Moreover, just because two customers are both millennial women with bachelor's degrees doesn't mean that their needs will be the same. For enhanced targeting, businesses should look at implementing further segmentation models.


Psychographic segmentation
Where demographic and behavioral segmentation focuses on more data-driven aspects of the customer experience, psychographic segmentation examines how customers think and feel about themselves in relation to a brand. This includes the following areas:
Lifestyle
Values
Personal interests
Daily habits
Attitudes/opinions
In sum, psychographic segmentation looks at what customers aspire to be, rather than what they currently are. This makes it one of the most powerful, but also the most complex, methods of market segmentation.
If you're designing a new product, psychographic metrics are likely to play a big role in determining whether it's a good fit for your target audience. Questions such as "How will this product fit into my customer's routine?" Or "What pain point does this product address?" can only be answered by having an in-depth understanding of how your customer perceives the world around them.


Geographic segmentation
This is fairly self-explanatory; geographic segmentation is when a business segments its customers according to where they live and work. Depending on the size of your business and how dispersed your customers are, segmentation can be either broad or targeted, such as:
Global region e.g. Asia Pacific
Country
State
County
City
Neighborhood
Location-based targeting matters in retail for obvious reasons. If you sell in multiple countries, you want your website to default to the right currency when a customer accesses your site. Furthermore, you may need to look at tweaking your social media and promotional content in order to cater to different cultural understandings.
Top customer segmentation tools
Already sold on customer segmentation? Here are a few tools that can help in your efforts.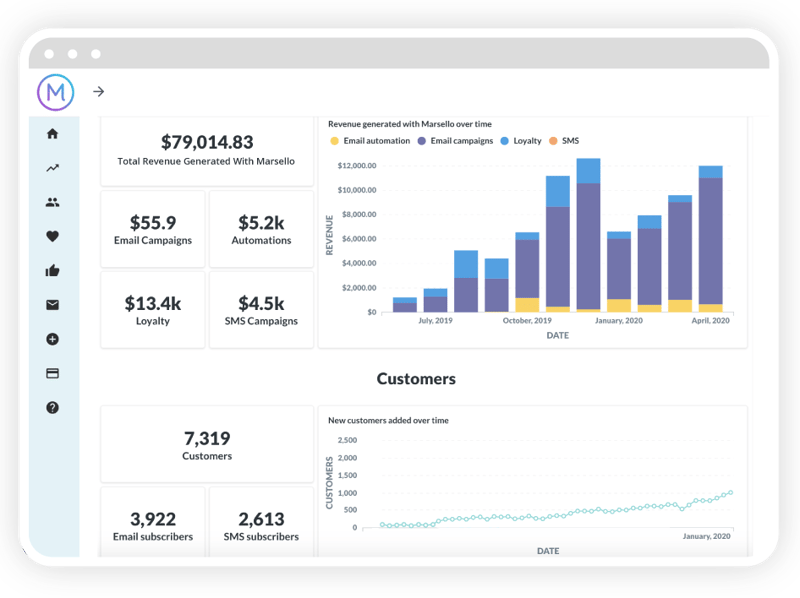 Marsello's marketing lists tool makes it easy for both online and offline merchants to capture valuable customer data. Via automatic syncing with your POS and eCommerce platforms, you can gain well-rounded insights into your customers' buying activities. Marsello also carries its own built-in RFM segmentation tool, allowing you to target high-value customers with great accuracy.
Businesses can also generate capture forms including email sign-ups, landing pages, and eCommerce pop-ups to drive higher conversions and advanced data capture.
Google Analytics is a standard tool within every marketing toolkit, including for retail customer segmentation. It offers two big advantages; it's free to use and offers a variety of data insights that can assist your segmentation efforts.
Google Analytics gives you access to basic demographic data, such as the age and gender of your website visitors in addition to targeting via location. However, it's relatively limited in what additional insights it can provide, meaning that it's better suited to being used alongside more powerful paid tools.


HubSpot allows businesses to combine multiple segments for marketing campaigns, so you're only targeting exactly the audience you want for email automation. Segments can also be organized according to custom criteria, such as the length of time since a customer last purchased to help reactive cold leads. A built-in CRM means that customer information is always kept up-to-date, or removed automatically according to the criteria you've set.
As you can see, there are plenty of tools out there that can fuel your customer segmentation efforts. The best way to figure out which solution is right for you is to determine your specific needs and budget, as well as to look for the following features:
Ease of use. The tool must be intuitive and simple to understand. It should make it easy to view segments and create campaigns, so you can spend less time figuring out technology, and more time connecting with your audience.

Automated. Your marketing solution should automatically

segment your customers based on their profiles and behaviors.

Omnichannel. Modern shoppers frequently interact with brands across multiple channels (in-store, eCommerce, social, mobile). To that end, your segmentation tool should work on both physical and digital platforms so you can keep up with shoppers no matter where they are.
How to do customer segmentation
Now that you have a basic understanding of customer segmentation, let's look at some ideas to help you implement them successfully.


Target leads from a specific campaign
If you're implementing specific marketing campaigns – e.g., promotions or paid ads – use the data you've obtained from those campaigns to create customer segments.
Let's say you ran a Facebook campaign geared towards a specific audience. You could use the leads you gained from that campaign to launch a highly targeted email initiative.
That's what the footwear brand Yuccs did. For Black Friday 2019, Yuccs got creative with their emails by launching campaigns based on shoppers' lead origins. People who recently found the brand via Facebook received different emails from those who had been shopping at Yuccs for a while.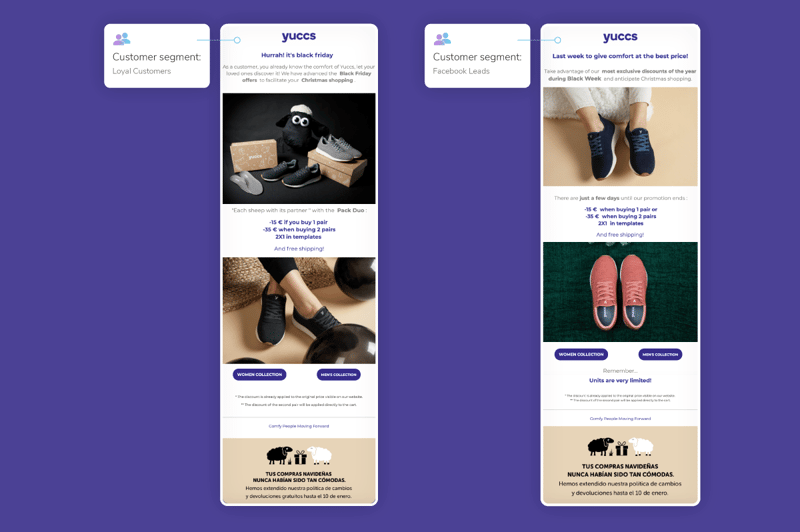 The takeaway: Your marketing efforts shouldn't live in silos. Link your initiatives together by using data from one campaign to influence your other activities.
As Yuccs' example shows us, your paid marketing initiatives can be a goldmine for customer segmentation data.
This also goes both ways. In the same way that you can use things like Facebook audiences to build email lists and segments, you can use your existing customer lists to create marketing audiences – such as an SMS list or Facebook lookalike audience.


Branch out beyond email marketing with SMS campaigns
Make the most out of SMS campaigns by tying them to your other marketing! Did you know that 56.7% of shoppers use their mobiles as their primary choice of browsing tool? Or that an astounding 90% of customers will open a text message within the first three minutes of receiving it?

Why not combine this knowledge with personalized, carefully curated SMS campaigns that drive customers to your store even if they've missed an email?

My Sister's Closet does a fantastic job of this by developing a well-rounded SMS marketing strategy that includes actively promoting their SMS efforts to customers and creating segmented SMS Campaigns that target specific customer groups with personalized messages.

They start by encouraging customer engagement with an SMS-specific sign-up form that offers interested customers 15% off when they join the exclusive 'VIP text club'.

Since implementing SMS into their marketing strategy and creating targeted campaigns, My Sister's Closet has seen a 421% increase in monthly orders!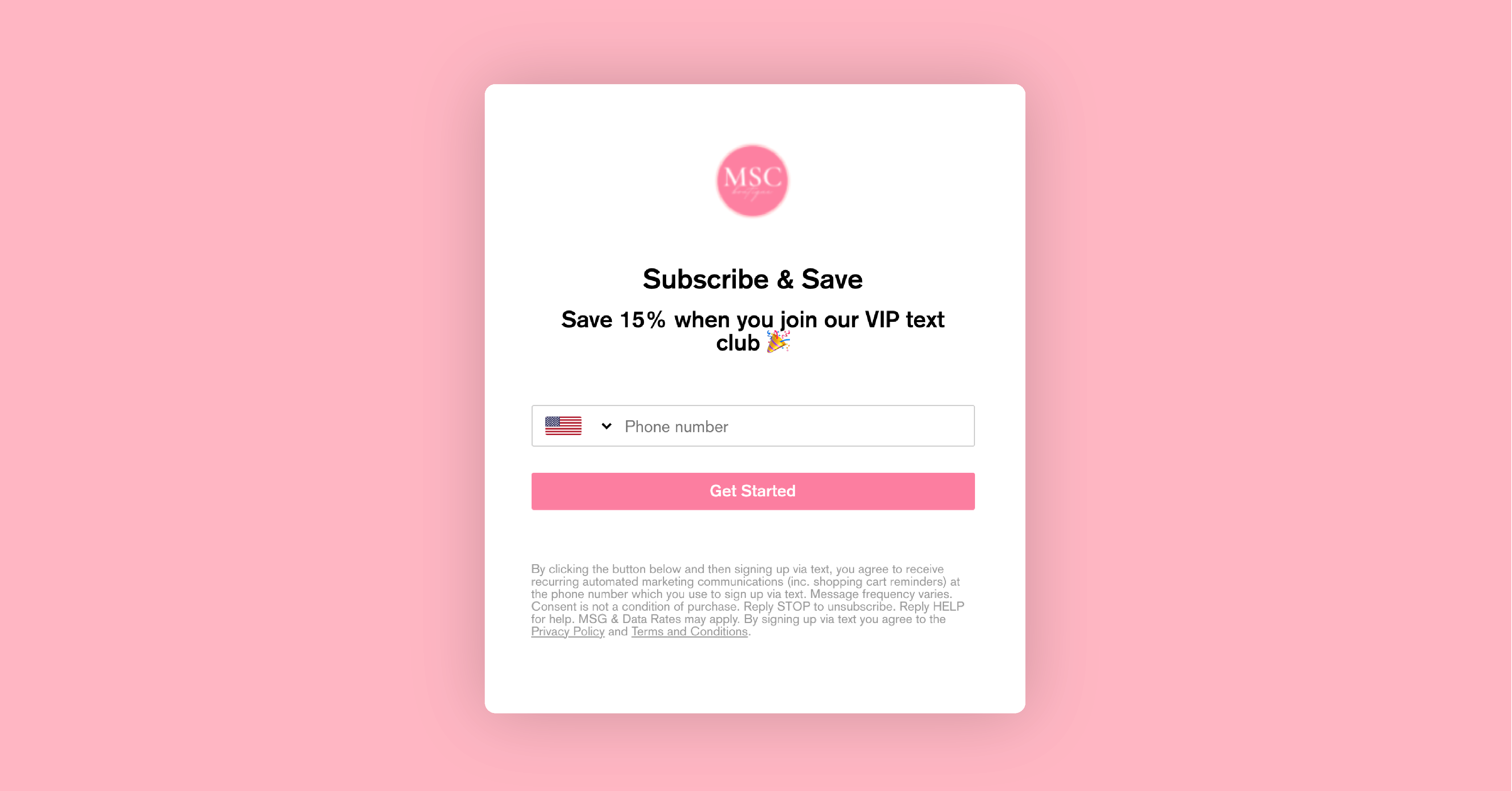 The takeaway: it pays to get creative with your marketing and where you implement segmentation into your marketing strategy. By adding another facet to their personalized marketing, MSC was able to see remarkable returns! Just make sure that any time you implement customer segmentation, you make the most of it with personalization and clear campaign goals to track the success of each campaign!
Target customers who took a specific action
It also makes sense to segment shoppers based on their shopping activities. If you have customers who purchased a certain brand or product type, for instance, you could segment and target them by creating a campaign centered on those items.
Or if a shopper took an action such as adding a product to their cart but abandoned the purchase, you can send an email reminding them to come back.
Check out Ozzie Collectables' abandoned cart email campaign, which sends a series of messages containing the items that a customer has in their cart.
In addition to product photos, these emails contain a clear call to action to encourage customers to complete their purchases.
The takeaway: Segment and target customers based on what they do online and in-store. Pay attention to the actions they take and launch your comms accordingly.


Sending specific campaigns based on where shoppers are in their journey
Your database likely consists of new customers as well as those who've been with you for a while. It's a good idea to segment these different groups, so you can communicate with them in the most targeted way possible.
Have a look at Home Goods Hardware, which has a Custom Automation geared specifically for their Window Shoppers segment. These are customers who've created an account but haven't made their first purchase. Aside from containing interesting info about the brand, the email has an exclusive 15% promo code to incentivize shoppers to buy.
The takeaway: Make all your customers feel special by analyzing their shopping journeys and sending campaigns based on their past purchases (or lack thereof). For best results, add a special discount!


Final words
Implementing retail customer segmentation is a big undertaking for any business, and needs to be continuously updated as you add new products or adjust your brand positioning. But by making an effort to understand your customers' behavior and preferences right from the very first purchase, your business is well-positioned to increase brand loyalty and customer retention for long-term retail success.