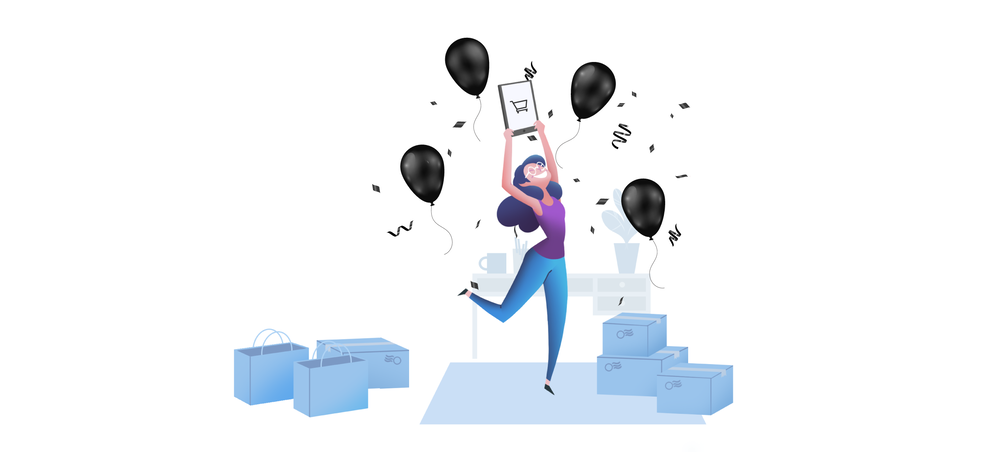 'Tis the Season for More Sales with

Marsello's Holiday Campaigns
Retail holidays – whether they're big ones like Black Friday or relatively minor ones like President's Day – can be both profitable and challenging.
While consumers are certainly willing to spend more during holidays, competition is incredibly fierce. Most retailers pull out all the stops to win over customers. To compete, you need to craft irresistible holiday marketing campaigns and ensure that your messages show up at the right time.
To help you with that, Marsello offers pre-made email campaign templates designed to drive traffic and sales during notable retail holidays. Marsello does most of the heavy lifting for you. We'll take care of designing, scheduling, and optimizing the emails for you. This can be a huge time-saver, particularly during retail holidays. We know that you're busy and the last thing you want is to manually take care of details like email scheduling and optimization. Keep reading to learn more about Marsello's holiday email flows.
Suggested scheduling
If you're not sure about when to schedule your campaign, fret not!
Marsello recommends best-practice settings, such as the most effective time to send your emails, based on what's working within your industry, what worked well last year, and projections for upcoming holiday shopping behaviors.
Simply accept Marsello's suggestion and you'll be good to go.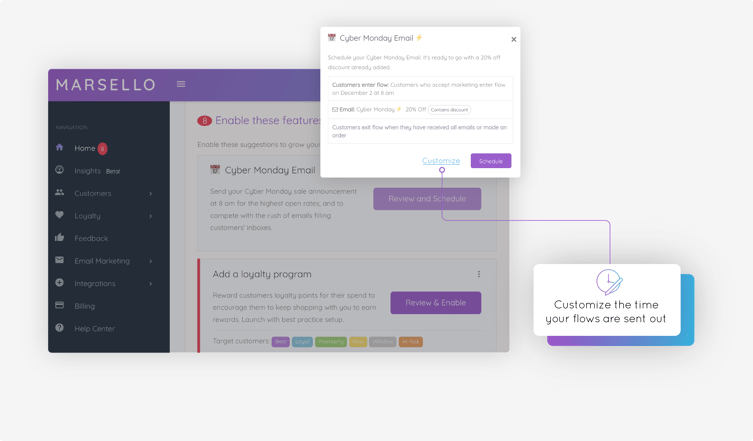 Easy-to-customize templates
No need to design a holiday email from scratch – Marsello's email flows come with holiday-centric templates that you can tailor to your business. A bit of branded customization is never a bad idea though.
Here are some of the ways that you can customize your emails:
Incorporate your brand – ensure that the look and feel of the email reflect your brand. Marsello lets you upload your logo and tweak just about every visual component of your messages, including font colors and sizes, so you're sending your emails in your brand's recognizable design palette.
Add personalized product recommendations – send emails that are unique to each customer with relevant product recommendations. Simply drag and drop the product widget onto your email, and it will automatically populate with the top 3 items that your customer is likely to purchase, based on their shopping history and the shopping histories of customers like them.
Throw in a unique discount code – want to sweeten the pot even more? Add in a unique discount code to further incentivize your customers. Marsello has you set up with single-use, unique discount codes that are accompanied by suggested amounts based on your industry's best practice data. Whether you want to offer free shipping or prefer percentage discounts, Marsello has you covered. While the discounts are smart-suggested, Marsello also enables you to edit discount rates, create promotions and customize them with just a few clicks. Plus, the system generates unique, single-use discount codes to prevent the misuse of your offers.
Getting started with holiday email flows
Ready to kick off your email campaigns? Follow these simple steps:
1. From your Marsello dashboard, your suggestions box will have recommended email flows. To see all your enabled and yet-to-be enabled flows, click on 'Email Marketing' in the left-hand navigation, then select 'Campaigns' from the drop-down menu.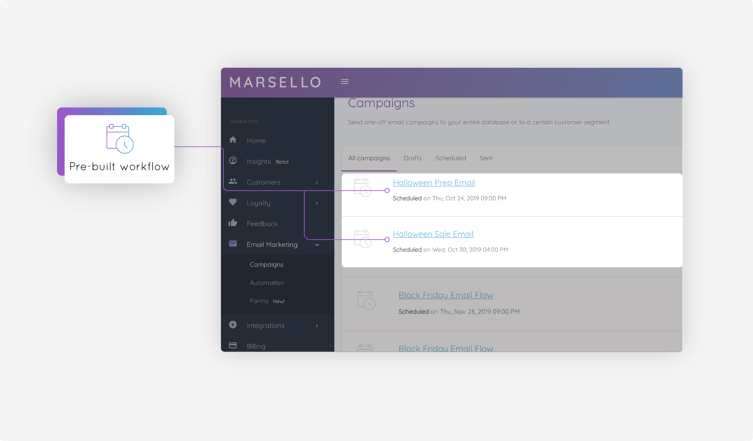 Once on the Campaigns page, you'll see a summary of all campaigns within your Marsello app. This includes drafts, scheduled campaigns and sent (finished) campaigns. Your holiday email campaigns will fall under the Draft tab until you enable them, then they will be listed under the Scheduled tab.
Note: you can use this window to find a quick summary of your email marketing, such as open rates, clicks and revenue earned. Keep reading to learn more about email campaign insights.
We're always keeping an eye out for upcoming holidays, so if a retail holiday is approaching, you'll see a pre-built workflow waiting for you within the feature suggestions box on the Marsello App landing page, and your Campaigns page.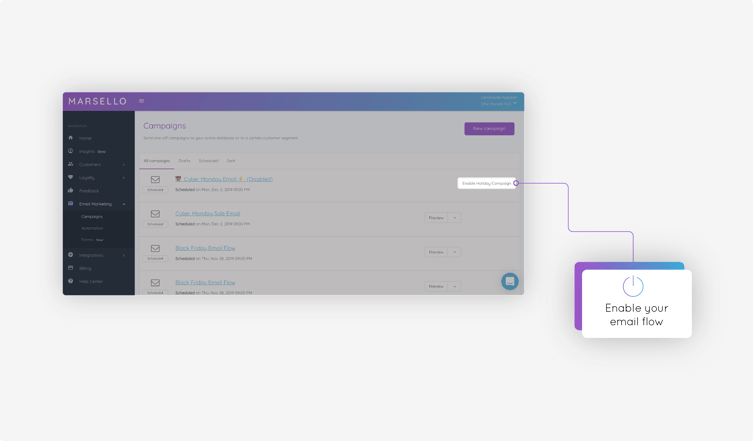 2. When you select a holiday email marketing campaign, you'll be taken to the Preview page that provides an overview of the flow. You'll see the action that triggers it, along with the emails that are included in the sequence. For this example, we've chosen the Black Friday holiday flow.
3. If you'd like to edit the flow's trigger settings, change the sequence of your emails, or add a time delay between messages, you can do so by clicking 'Actions' on the top right-hand side of the page, and then selecting 'Edit flow.'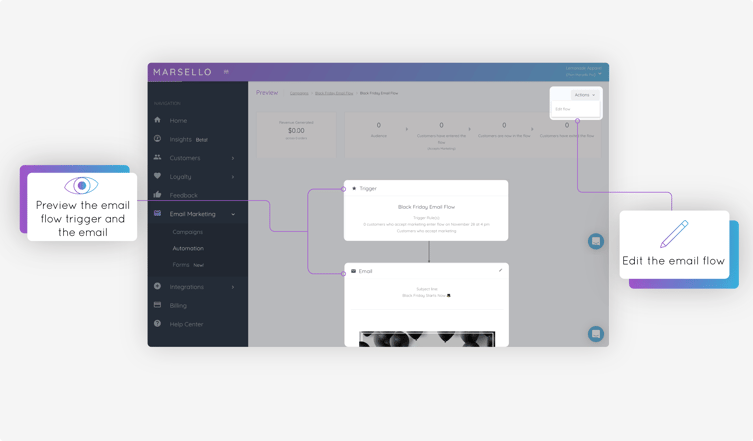 4. To edit the messages in the sequence, click the pencil icon on the top right part of the email that you'd like to modify. From there, you'll be able to customize each message. The email editor uses a drag-and-drop functionality that makes customizing your message easy! Once you're done editing, you can send a test email to yourself or save the message (we recommend always sending a test email).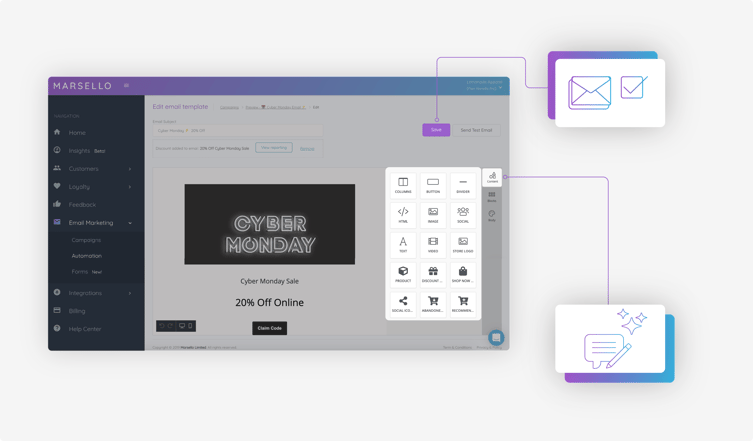 5. When you're ready to kick off your campaign, go back to the Preview page and then click 'Enable Flow'. You can also do this from the main Email Flows page by toggling with the ON/OFF switch beside the flow that you want to activate.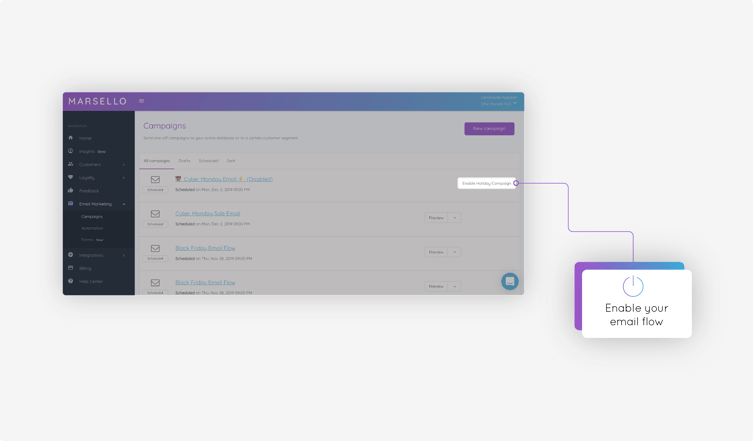 By the way, Marsello's email flows are automatically scheduled for your store's optimal holiday sending times thanks to smart suggestions. Simply enable your email flows in advance (i.e., days, weeks, or even months before a retail holiday), then you can rest easy knowing that your email campaigns will run on schedule.
And that's it! Once you've turned on the email flow, your messages will automatically send when the trigger is activated, and you don't have to worry about manually managing your campaign.
Understanding your insights
Navigate back to the Campaigns page (select 'Email Marketing' in your Marsello App left-hand navigation, then 'Campaigns' from that dropdown menu). For each campaign that you have enabled, you will be able to access detailed reporting.
To the right of the page, select 'View Report' and gain access to your insights for that campaign. From this window, you'll be able to preview the email flow that you sent and get an understanding of its success with your customers.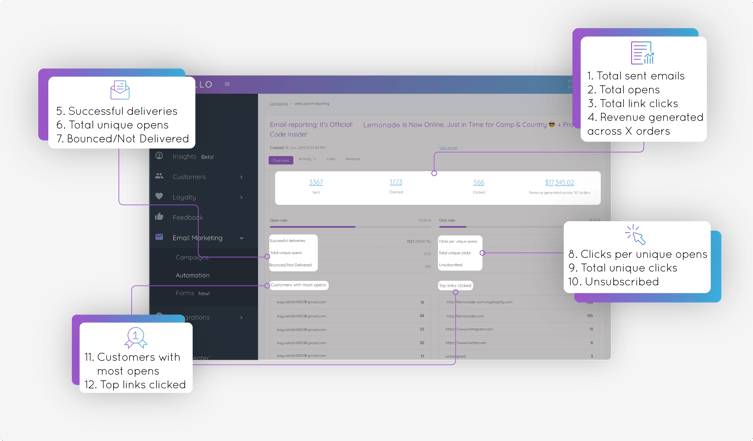 Insights available on this page include:
Total sent emails
Total opens
Total link clicks
Revenue generated across X orders
Successful deliveries
Clicks per unique opens
Total unique opens
Bounced/Not Delivered
Unsubscribed
Customers with most opens
Top links clicked
Marsello's data-driven email marketing reporting is designed to help you continually send effective emails. These insights will help with understanding your customers, segments, their purchase habits, and success of campaigns. To make the most of your email marketing, make sure you're tracking each campaign and comparing the results of each change you make.
Final words
Every retail holiday brings a wealth of opportunity, and email marketing continues to be one of the best ways to capitalize on that. Use Marsello's email flows to ensure that your campaigns hit the mark.
If you're wanting to create One-off Email Campaigns that cater to more than the holidays, then we also have the answer for you. These give you the power to update your customer segments with new stock, newsletters, and so much more. Check out the One-off Email Campaigns here!