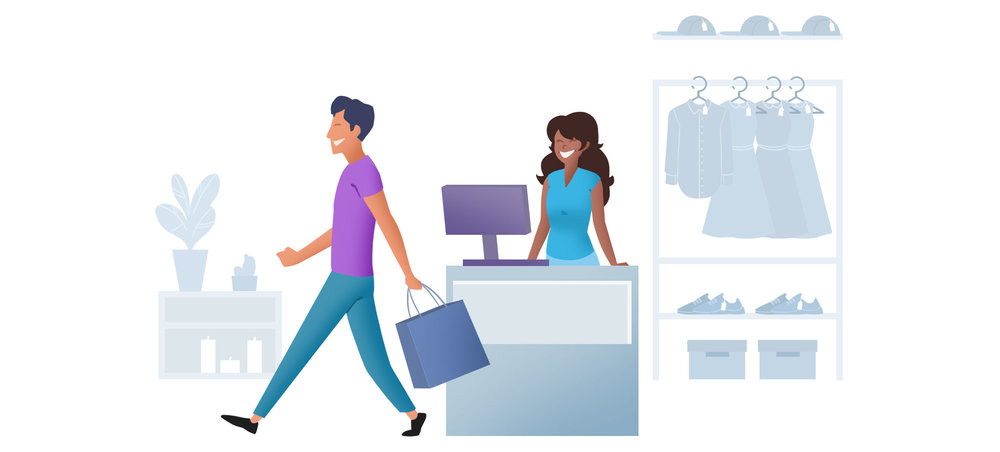 The Loyalty Marketing Guide:

8 Strategies for Gaining Customers for Life
Loyal customers are infamously the best types of customers to have. Not only do they spend more, but it's also cheaper and easier to market to existing happy customers than it is to attract new shoppers.
In fact, the Pareto Principle (also known as the Law of the Vital Few) states that 80% of all sales come from just 20% of your customers and that 20% are usually loyal, returning customers.
What exactly does it take to gain customer loyalty?
To answer this question, we conducted a quick poll asking consumers what they love most about their favorite retail businesses. The responses revealed the following insights:
Customer service experience is the number one factor that contributes to shoppers' loyalty. Most of the responses to the poll said they keep coming back to businesses that have helpful, informative, and friendly employees who aren't too pushy.
Businesses that strive to do good in their community or elsewhere automatically encourage more customer loyalty by sharing their customers' values.

Merchant

s who actively reach out to customers with personalized marketing efforts not only increase customer engagement but also improve their relationships with customers.
High-quality, attractive merchandise, and smooth, efficient shopping experiences encourage shoppers to return to a business again and again.
A customer-centric returns policy.
Generous, carefully planned, and inclusive loyalty programs are powerful incentives for customers to shop again and again – adding VIP tiers further encourages customers to keep coming back.
In this guide, we'll take a closer look at these different factors and offer actionable steps you can implement in your business. By the end, you'll have a deeper understanding of shopper loyalty, and you'll know exactly what you need to do to win customers for life.
Loyalty Strategy #1: Train employees in unparalleled customer service
Customer service is one undeniably of the most important considerations when it comes to customer loyalty.
People connect (and shop repeatedly) with brands that serve them well. In fact, a study by Wunderman found that "88% of U.S. consumers want to engage with brands that are setting new standards in meeting their expectations", and "74% said brands can do so by providing a higher level of customer service."
Having a nice-looking store and an amazing loyalty program is great, however, it's essential that your customers' experience lines up with all the effort you're putting into creating a beautiful space and compelling marketing!
That's why the first thing you should do when you're beefing up your loyalty strategy is to improve your customer service. This starts with having happy and helpful employees who can interface well with shoppers.
Here are some ways to accomplish that:
Hire employees with a natural inclination to serve
Bruce Nordstrom famously said, "we can hire nice people and teach them to sell, but we can't hire salespeople and teach them to be nice."
Keep this nugget of wisdom in mind when you're hiring customer-facing staff. While having sales skills and retail experience is great, we highly recommend that you prioritize an individual's attitude and disposition over sales abilities.
Providing an exceptional customer experience begins with having the natural desire to serve and engage with people, so look for employees who have your customers at the forefront of their minds.
Remember, it's easier to train employees on your store policies and sales techniques than to teach them to be good with people and understand your customers' needs.
Arm your staff with the knowledge and tools to best serve your customers
Cultivate a proper training program for new hires to ensure your employees know exactly how to deal with shoppers and how to solve their problems.
Tip: consider role-playing different customer situations with your staff so that they can practice the right customer approaches and procedures. This will give them the opportunity to learn and make mistakes, without feeling like they're learning on the job in a high-pressure environment.
Customer service tools can also play a significant role in ensuring that your associates can do their jobs correctly. The right solutions will depend on your needs, but they typically include:
Documents outlining your customer service guidelines and policies
A Customer Relationship Management (CRM) system for tracking shopper behavior and preferences
Help-desk software to help you communicate better with your customers (this is particularly important for eCommerce)
FAQ page that addresses common customer concerns.
Feedback tools that enable shoppers to provide private feedback on their experience with your store.
Katie Waltman, a specialty jewelry brand and clothing store, goes the extra mile in requesting customer feedback and understanding the results. In addition to a detailed FAQ page, they also ask customers for feedback on their experience after every purchase. They do this by adding a survey to their 'points earned' automated email notification which lets loyal KW customers know their points balance and encourages them to leave detailed feedback. By adding this simple survey to their emails, the Katie Waltman team is able to fully understand their customers' needs, keep improving their customers' experience, and maintain a 97% customer satisfaction rating.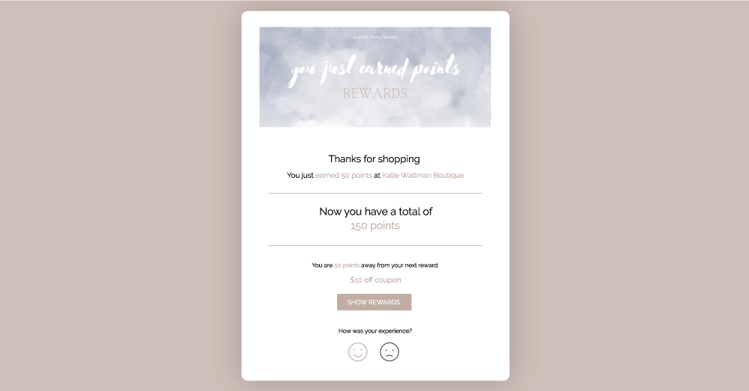 Action steps
Evaluate your existing customer service practices and systems, starting with your staff. Are your employees empowered to serve shoppers better? If the answer is no, then find ways to empower your staff to best help your customer and to motivate their success.
Look into tools you can use to better serve your customers. These can include CRM, help-desk software, feedback software, etc.
Loyalty Strategy #2: Let your values shine through
Remember that Wunderman study we cited earlier? It also found that a whopping 89% of respondents said that they "are loyal to brands that share their values."
In an age when consumers are more socially conscious than ever before, the merchants who stand out are the ones who stand for something
Determine what you stand for and integrate those morals into your everyday business.
What does this mean for you? For starters, it means you need to figure out your core values. If you need help doing this, we recommend following the advice of business and life coach Marie Forleo. She said that you need to determine your Four Ps:
Purpose – Your story or reason for being
Principles – What you stand for in your business
People – Your ideal customers
Pisses you off – What frustrates you about your industry
According to Forleo, doing this will "help you unearth what's unique about you and can help you articulate your uniqueness in your copy".
Once you've zeroed in on the things you stand for, you need to find ways to communicate those values to your customers in a way that excites and intrigues them.
Communicate your values
Explain and demonstrate your values to your employees. It's essential that you and your staff can authentically embody the values you stand for. This goes back to hiring people with the right attitudes and dispositions. When everyone in your company lives and breathes your values, it's much easier to share them with your customers.
Next, you can begin to promote and leverage those values by talking about them in your marketing and advertising copy. The Four Ps we mentioned earlier can be valuable starting points for this. You can, for example, talk about your purpose and principles on your 'about' page or product packaging.
Engage in corporate social responsibility
Executing Corporate Social Responsibility (CSR) initiatives can also help you communicate your values. Consumers love businesses that give back, and they're more likely to be loyal to brands that support great causes.
A 2017 study by Cone Communications found that "87% will purchase a product because a company advocated for an issue they cared about" and to quote the article further, "although CSR will always be grounded in business operations [...] companies must now share not only what they stand for, but what they stand up for."
In short? Stand tall, stand proud, and stand loud!
Talia Richardson, Partner Manager (Asia Pacific) at Shopify, had this to say:
"Incorporating corporate social responsibility into your business must come across as authentic and align with your company vision and values. There are multiple ways to adopt CSR into your business – sustainability, diversity and inclusion, health, and innovation are a few examples of areas you can make an impact. Whatever you decide, make sure your team is bought into your vision and the 'why'."
As a merchant, there are plenty of ways to take a stand and support amazing causes. You can, for example, donate a portion of your sales to charity.
Australian omnichannel jewelry merchant, Francesca Jewelry does a truly inspiring job of honestly and authentically incorporating CSR into its business model. Francesca gives back in two ways: first, they have a charity-specific product collection with which the proceeds go directly to non-profit organizations. Second, the shop also gives customers the opportunity to donate to charity at checkout!
The organizations they currently support include:
Landcare Tasmania
Be Hers
National Breast Cancer Foundation

Action steps
Determine your values by articulating your Four Ps: Purpose, Principles, People, and Pisses you off.
Share your values with your team and define the processes you'll implement to help your business become a company that lives and breathes these values – your customers will notice this, and you'll naturally attract the right audience.
Consider engaging in CSR to support your values. Are there charities or nonprofits you can team up with? Find them and strike up a partnership that makes the world a better place!
Loyalty Strategy #3: Have a winning product assortment
Customers love to return to stores that sell the products they love most … so always sell products they love. It may sound simple, but finding out what it is that your customers are most attracted to can take a little planning and tracking. You want to be thoughtful with your merchandising, and, as much as possible, stock items that shoppers won't find anywhere else. Help your store to stay front-of-mind with unique, undeniable, and enviable products that will not only keep customers coming back but will encourage them to spread the word.
Merchandising success in this day and age isn't about stocking more products, it's about having the right items. Think of yourself as a curator who handpicks styles specifically for your target audience.
Have the right data
Having an amazing assortment starts with the right data. Arm your business with a retail management system that has strong reporting capabilities so you can get insights into your inventory movement.
Dig into your reports to identify and forecast trends. For example, if a particular product type is selling well, you may want to consider stocking more of it. Or, if you discover that your customers love a certain brand, see if you can order more from that supplier.
In addition to inventory information, it also helps to analyze customer data and behavior. This is where having a great CRM comes in.
As Lisa Vitaris, Head of Brand & Acquisition Marketing at Tyro, puts it…
"Wrangling customer data can be tricky for many businesses, but is absolutely critical to their success. Being able to mine data insights in order to make better business decisions is vital, as is being able to communicate in the right way at the right time, so a good CRM used in the correct way and marketing automation software is paramount."
Gather direct feedback
Valuable information doesn't always come from reports or analytics dashboards. You'll often experience 'a-ha moments' by getting direct feedback from your customers. So, talk to them. If you have a brick-and-mortar store, walk the sales floor to get a feel of how shoppers are doing. Chat to them at the checkout counter and ask about the items they liked and whether or not they found what they were looking for – just make sure you're being authentic and truly helpful because, let's be honest, a lot of the time a customer will answer with the intention of getting in and out of the store as quickly as possible.
Another tactic that works great for both online and offline merchants is gathering feedback from customers. Consider setting up a system that automatically prompts shoppers to review your store's products and experiences. Doing so will help you get to know them better so you can make informed decisions around your merchandising, customer service, and more.
Let product and customer insights drive your merchandising decisions
Once you have enough insights, put that information to good use. Make data-backed decisions when you order products and stock your shelves, and then keep collecting data so you can refine your assortments even more.
Whether you're an eCommerce merchant, omnichannel, or just brick-and-mortar-based, you're in a great position to further personalize the merchandising experience of your customers. Think about how Amazon makes relevant product recommendations based on items that you or other shoppers have viewed and bought.
There are countless tools that enable you to make better merchandise recommendations. Explore your options and see what works best for your website, marketing, or store.
Action steps
Look into your product and customer reports to find merchandising trends and insights. What products or styles do shoppers like best? How can you surface more of those items in-store and online?
If necessary, explore merchandising solutions for your store. If you're in eCommerce, this could be in the form of a platform that lets you make relevant product recommendations.
Loyalty Strategy #4: Create delightful shopping experiences
Retail is so much more than buying and selling merchandise. The experience people have when shopping with you will make or break a customer's likelihood to shop with you again and to keep coming back. That's why it's essential to ensure that shoppers have an unbeatable experience when they're browsing and buying from your business, whether that's online or in-store.
A big part of accomplishing that will come from your staff. As we mentioned earlier, it's essential to have a team of customer service superstars who can wow your shoppers.
Ensure that customers have a smooth shopping journey
In addition to providing remarkable customer service, you need to establish smooth and seamless processes for your customers. Make it easy for them to find, buy, and get their hands on their purchases.
This requires looking at the shopping journey of your customers and making sure it's as smooth as possible. Map out their journey from product discovery to fulfillment, and then identify bottlenecks or pain points you can address.
For example, while looking at your online store's analytics, you may discover that the checkout experience is cumbersome, load times are much too long and this is causing shoppers to 'bounce' with a high abandoned cart rate. Use that insight to improve your website and consider the user experience of your online store an integral part of your customers' shopping experience. Then ensure you're capturing these customers with an automated email campaign to encourage them back to your store after they've abandoned their cart.
Running a loyalty program? Make it easy for people to join, earn, and redeem rewards. A great example of this in action comes from Our Bralette Club. The Singapore-based lingerie brand cultivated a multi-tiered loyalty program that enables 'Peach Party' members to earn rewards in multiple ways. Added bonus? OBC are also masters of CSR with body positivity resting at the core of their values which they share proudly throughout all facets of their business.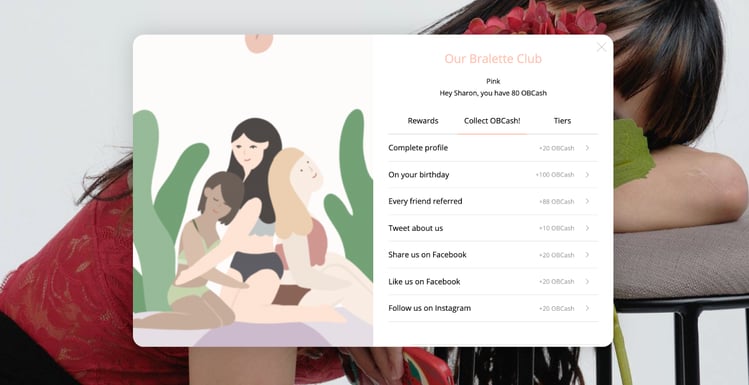 Their loyalty explainer page is colorful, user-friendly, and fun, and customers have access to several different actions they can take to earn 'OBCash'. Their online loyalty widget clearly outlines how the Peach Party loyalty program works, including how to earn points, reward options, and the multiple tiers of their program.
Go mobile
Having a mobile-friendly shopping experience is crucial, as more and more of your customers are shopping on the small screen. That's why, if you don't have a mobile commerce strategy, you're missing out on sales and engagement opportunities.
If you don't have a mobile commerce strategy, you're missing out on sales and engagement opportunities.
Editor-in-Chief at BigCommerce, Tracey Wallace, says:
"For brands of all sizes, a mobile-friendly site is so important it's almost not worth mentioning (except so many people aren't doing it). Beyond that, though, you also need mobile-friendly payment options like Apple Pay, Amazon Pay, and PayPal One Touch. These are one-touch experiences that remove the need for consumers to type in all their info on a tiny screen – which most just won't do."
Did you know that Google will actually rank your website lower in search results if your website isn't mobile-friendly?
Tracey went on to add:
"Also, think through mobile image optimization and AMP. We know Google will be altering their mobile algorithm in July 2018 to account for this. And Google isn't just doing it for the sake of it. They are doing it because slow-loading mobile sites are a bad experience. So, speed yours up."
"For brands with larger catalogs, faceted search and dropdown menus are incredibly helpful for navigating. Think through how this typically desktop experience can translate over to mobile as well."
Keep the brand experience consistent
As a modern business, you should be operating as an omnichannel merchant (i.e., eCommerce, brick-and-mortar, social media, mobile, email, etc.).
Here's the thing: consumers often move from one sales channel to the next, so you should ensure that the experience they have with your brand is consistent, no matter where or how they're shopping. A disconnected brand experience is confusing and won't win you any loyalty points with shoppers.
Be very clear about your brand identity and have it come to life beautifully across multiple channels. You can do this by using similar color palettes and imagery on your website, social accounts, and other customer-facing assets.
Have a look at what New Zealand pet products merchant, Smack Bang is doing. Their team works hard to create a consistent brand experience for their customers across both their online store and brick-and-mortar stores. They run their loyalty program across both to make sure their members earn for purchasing however they choose and to make it easy for them to redeem rewards. And Smack Bang's slick, inviting branding reminds customers that, no matter what channel they use to shop, browse, or just follow, they're engaging with the leading pet store boutique in Wellington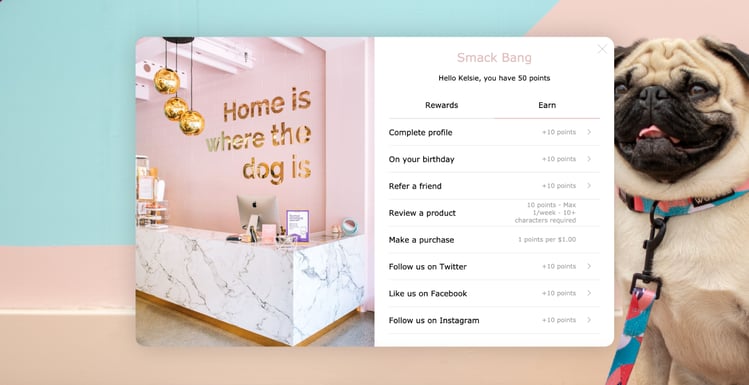 Action steps
Identify your customers' journey from product discovery all the way to purchase point and beyond. What actions or steps do they take at each stage of the process? Map out everything and find inefficiencies that you can easily tackle.
Once you've identified those inefficiencies or bottlenecks, solve them. Be it a slow checkout process, a disconnected online, mobile, and offline store, or slow customer service, identify the issues and fix them ASAP. And remember: automation is a HUGE help and will improve your customer's experience.
Focus on the customer. Before adopting a new program or technology, be certain it's something that truly adds value to your customer's overall experience with your store.
Keep your brand experience consistent across multiple channels. Use the same assets and technologies so your customers can interact with your brand on different places or devices without feeling disconnected.
Loyalty Strategy #5: Craft customer-friendly (but fair) policies
Your store policies can have an impact on shopper retention and loyalty. Consumers hate jumping through hoops, so if your policies make it difficult for them to do things like return products or redeem rewards, you'll be hard-pressed to get people to come back.
Now, this isn't to say that you should be too lenient and allow consumers to take advantage of you. The key is finding the right balance between being customer-friendly and protecting your business.
Here are some tips to help you do that:
Run the numbers
When crafting your store rules or guidelines, determine the costs associated with certain tasks. For example, if you're writing your returns policy, you may want to figure out your business's return rate, as well as the costs that come with processing returns.
If the numbers are manageable, consider adopting customer-friendly policies to give shoppers more confidence in their purchases. However, if the costs are too high, you may want to err on the side of caution and be more strict. You should also establish measures that prevent people from taking advantage of your policies.
For example, some businesses take note of the return rates of their customers. If a shopper returns items too frequently, the merchant could flag that customer and restrict future purchases or returns.
Be more fluid with your policies
Your store policies don't have to be set in stone. One thing you can do is empower your staff to use their judgment when dealing with customers.
Let's say a customer is trying to redeem an expired gift card. Instead of automatically rejecting the request, you could take a closer look at the customer's purchase history. If they're a frequent shopper, you may want to give them a pass. Doing so can build goodwill and encourage them to come back.
Of course, you probably wouldn't do the same thing if the customer has a history of frequent product returns or fraud.
Check out what your competitors are doing
Having trouble ironing out store policies? Do some competitor research to find out how they are structuring their rules and guidelines.
While you wouldn't want to copy them exactly, being aware of your competitors' policies could give you some inspiration on how you can craft your own. You can also make sure your policies differentiate your shop from similar merchants.
Action steps
Be thoughtful about your policies. Come up with guidelines that are customer-friendly, yet also make business sense.
Although it's a tricky balance, you can craft the right policies by first looking at your numbers.
Also, consider empowering your associates to be more flexible with your policies and deal with situations on a case-by-case basis.
Loyalty Strategy #6: Be relevant with your customer interactions
Interacting with customers in relevant ways not only differentiates your brand, but it also strengthens shopper relationships and loyalty.
Wunderman's study found that among their respondents, "56% said they feel more loyal to brands who 'get me' and show a deep understanding of their priorities and preferences."
The best way to show shoppers that you 'get' them is to communicate with them in the most relevant way. This can be as simple as using bilingual copy if you're catering to shoppers whose first language isn't English.
Adopt customer segmentation
If you have a large customer database, you should consider implementing personalization at scale with customer segmentation. The last thing you want is to 'batch and blast' your customers when they have different profiles, histories, and preferences.
Spanish shoe brand, Yuccs, does this really well. Not only can their online store easily cater to both English and Spanish-speaking customers, they also make use of clever personalization tactics to ensure they're capturing the attention of specific customer groups with carefully curated campaigns.
Check out this example from their 2019 Black Friday campaign, in which they created separate email campaigns, one which went to their loyal customers and another went to leads they'd acquired from Facebook. While the general theme of getting the customers to shop during the infamously competitive retail holiday was obvious, they also achieved their goals of converting new leads while also helping loyal customers to feel appreciated! Read more to learn about their results.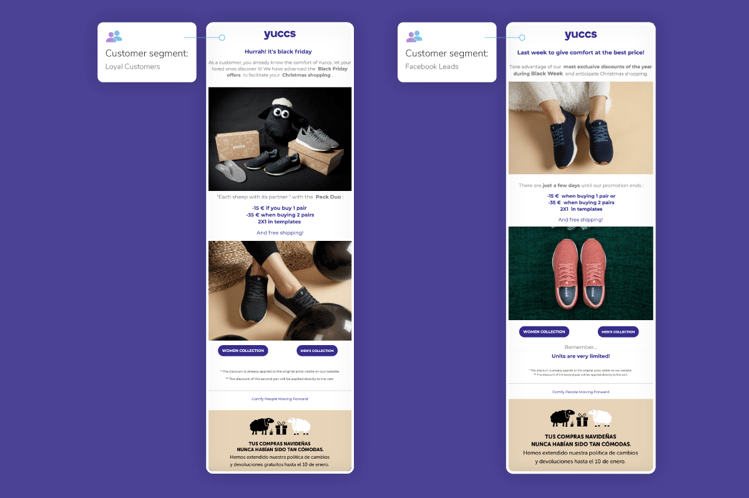 Action steps
Be as relevant as possible when communicating with your customers. For example, if you have customers in non-English-speaking countries, consider offering translation options on your website.
Segment customers using the RFM method. Use the practice to identify key customer groups (VIPs, slipping away, etc.), and then craft campaigns accordingly.
Loyalty Strategy #7: Build a community
A community can be a powerful driver of loyalty. People love connecting with like-minded individuals, and brands that enable those connections are often rewarded by having a solid and loyal base.
As Jason Bowman, Asia-Pacific Team Lead at Shopify Plus, puts it:
"Any business building a Brand should aim to connect with customers via shared visions and passions. This can turn a customer into a supporter – someone that has the motivation to help the business grow beyond just buying a product."
Cook up ways to bring people together through your business. Chances are, your customers all have something in common (i.e., shared values, common hobbies, love for the same products). Leverage those commonalities to build a community around your brand.
Skincare professionals, Prodermal, are masters of creating events that engage their community and encourage customers to learn more about Prodermal's products. They often host get-togethers that are designed to educate customers and thereby create brand ambassadors – a clever tactic for really cementing customer loyalty and creating a community that actively shares Prodermal's products through genuine appreciation.
Action steps
Find commonalities among your customer base. These could be shared values, common hobbies, or love for the same products.
Bring people together using those commonalities. Consider holding events, setting up online forums, or creating Facebook groups where people can congregate and connect.
Loyalty Strategy #8: Implement a loyalty program that benefits your customers
It can't be said enough: design a loyalty program that is customer-centric and focuses on bringing that undeniable value.
We know you've likely heard it all before, but we also know how important it is! If your customers aren't excited by your loyalty program, they won't engage with it. It's all about creating rewards that incentivize shoppers to keep coming back, and offering achievable earn options which build your customer's confidence that they will see the benefit and redeem a worthwhile reward.
Crealunch, a meal subscription service based in Montreal, Canada, offers customers one, three, or six free meals at different stages of their loyalty program, encouraging subscribers to keep purchasing from the meal service until they've earned a free lunch. And they don't have to wait long either!
And an added bonus in Crealunch's efforts toward improving customer loyalty? They've ensured that their online store caters to both English and french-speaking customers. Just another step towards encouraging customer engagement from multiple site users.
Keep it simple
As a matter of fact, the same goes for navigating your program. Our core tip? Keep it simple to start with! Not only will it help you to craft a powerful loyalty program quickly, but it will also allow your customers to start using your loyalty program; this will give you insight into your most successful rewards and earn options.
Carolina Lifestyle has this mastered! With 3 simple earn options, and a clear rewards system, the US-based clothing and accessories brand has seen outstanding results with their easily navigable loyalty program – 131x ROI to be exact!
Tip: As we've mentioned before, link your customer feedback collection tool to your loyalty program and reward customers for providing you with feedback on their experience.
When considering a loyalty program software, a lot can be said for omnichannel compatibility (the ability to share the same loyalty program both in-store and online). Thankfully, Marsello bridges this gap.
And don't forget, if your loyalty program is customer-centric (as we've mentioned above), it must be easy to use! That means it should be fast-loading, easily navigable, and clearly branded. We love what Yangoods have done with their online loyalty widget by ensuring it's simple, yet on-brand.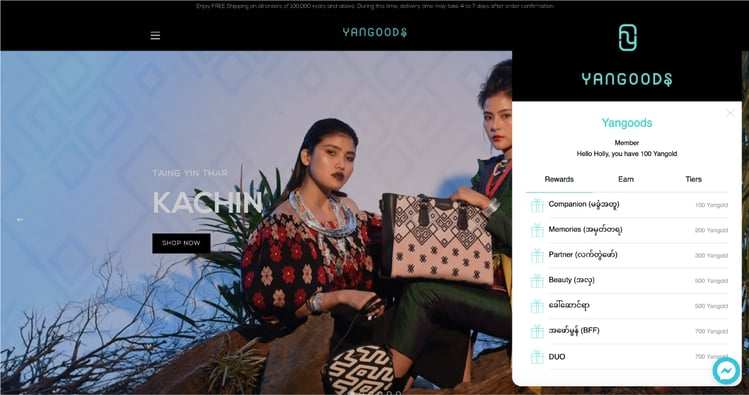 The team at Yangoods had this to say:
"Since we've started working in Vend, Marsello as a customer loyalty tool was the first tool we found and we've stuck with it through this whole time. Most features are easy to access, set up, and versatile to use. When our eCommerce store launched this year, Marsello was the first app we integrated into it as well. Last but not least, the support team is the most helpful wonderful professionals we've had the opportunity to work with."
Promote your loyalty program
It's all well and good to put all of this effort into your customer loyalty, but if you're not clearly communicating with customers that it's win/win, they may not even notice.
We've previously mentioned automations as a powerful way to foster customer loyalty with minimal buy-in from you. When choosing a loyalty software, ensure you find one that allows you to send automated email notifications to your loyalty program members. Whether it's rewarding them on their birthdays, or just thanking them for making a purchase, every communication makes a huge difference in reminding your customers what the benefits are to being a loyalty program member.
Nigerian shoe distributor, bCODE, goes above and beyond in regard to promoting their loyalty options to their loyalty program members. In August of 2020, they created a one-off points promotion campaign where customers received double points when they spent 1000 Nigerian Dollars (equivalent to around $2.60 USD). They then made sure to notify all their customers by email, hoping to increase loyalty program sign-ups and encourage purchases. The results? They saw a whopping 94% increase in loyalty point spend after announcing their points campaign and, overall, they saw a 340% increase in revenue from loyalty program customers since creating an omnichannel loyalty program.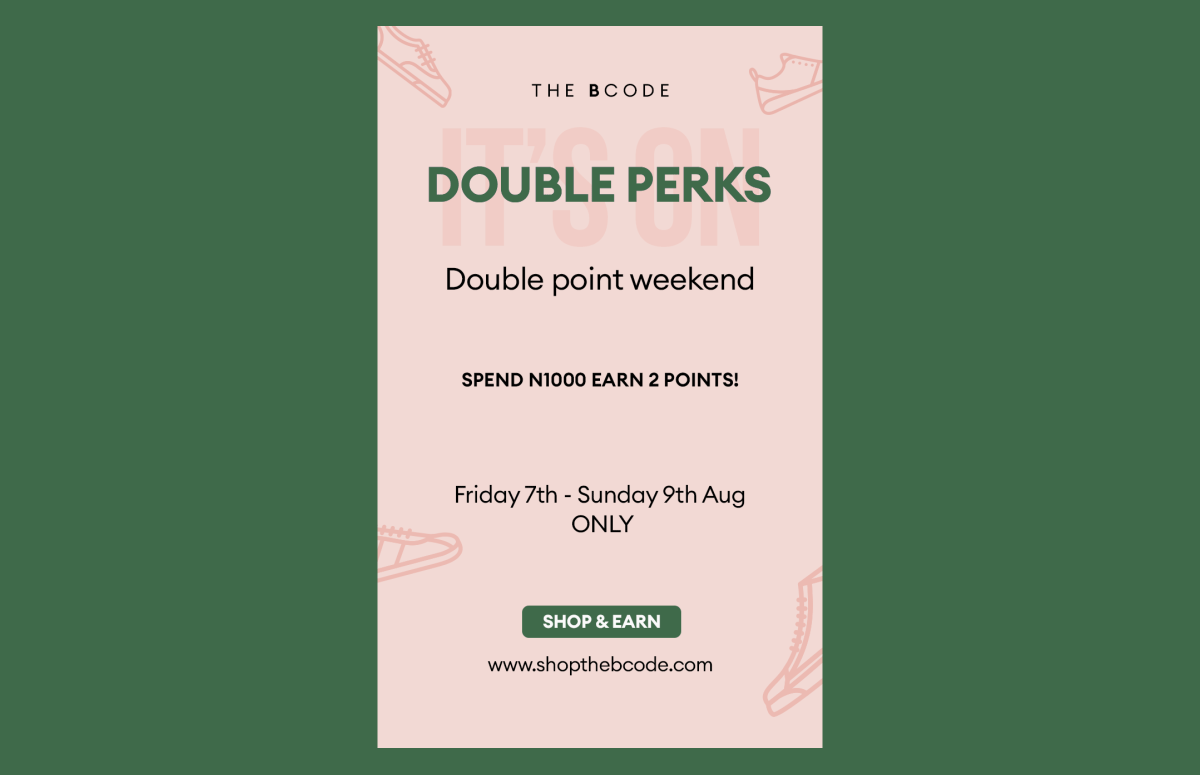 Action steps
Keep your customers front of mind when creating your loyalty program. The more you cater to their needs and wants, the more likely they are to take up your loyalty promotions.
Design user-friendly loyalty programs that incentivize customers to use them time and time again.
Once your loyalty program is implemented, shout it from the rooftops and keep your customers engaged through various points of their lifecycle. And don't be afraid to get inventive with points promotions and special offers.
What's next?
We just shared a ton of loyalty-centric information and strategies with you, and we hope you're inspired to take your customer retention and loyalty efforts to the next level. Where you go from here depends on your business situation.
We don't recommend you try to implement all seven strategies at once. The best thing to do is figure out the areas in your business that need the most improvement and start there.
For example, are you getting a lot of complaints about customer service? If so, you may want to tackle that first. Are shoppers having a hard time interacting with your brand across channels? Then the first order of business should be to create that seamless brand experience.
And if you require assistance implementing any of these strategies, know that there are powerful tools out there. From eCommerce management and retail analytics to tools that promote customer loyalty and retention, there are numerous solutions that can make your business life easier.
Good luck, and don't forget to explore our blog and Customer Success Stories for more inspiration on mastering your loyalty marketing strategy.